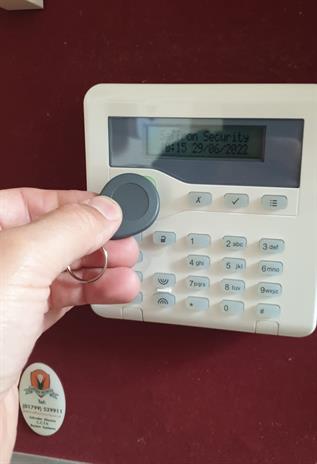 Our Intruder Alarm System are designed to your specific requirements and are based on a survey being carried out at your property to assess the risks of Intrusion or burglary.

We can design a system to suit all sizes of property, domestic or commercial, the same common sense approach applies. Based on discussion and risk of burglary, Saffron Security use the very latest Intruder alarm technology.

You can have just a local alarm (sirens on site), or in addition to that a messaging facility whereby you get notified of alarms to your mobile device, you can even set/unset your alarm with your mobile device. We can even facilitate a fully monitored system to generate a Police or Guard response via our alarm receiving centre (third party company). The level of response will be driven by either insurance requirements or customer peace of mind. You should always be happy with the level of response that you have, even if you don't start with a monitored system, you can always add these facilities at a later date.

Our systems are certified upon completion to satisfy your insurance requirements. Certificates are issued by our inspectorate SSAIB.
We do not certificate other peoples systems unless extensive upgrades are carried out or the system currently complies with the latest regulations.
Whatever system we have designed for you, we can provide peace of mind by having our siren on the exterior of your property. Intruder alarms are recognised as a means to prevent Intrusion by acting as a visual deterrent, this should put off most opportunistic Intruders.

Our systems can be either wired or wireless or a mixture of both (hybrid), this would be dictated by the onsite requirements and customers requirements, not by the expected low cost comparison to a DIY system.